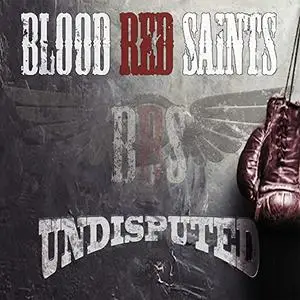 UK melodic rockers Blood Red Saints have returned to the Frontiers label, who originally worked with them in 2015 on their debut, for their next studio album. August 6, 2021 will see the release of the fourth studio album from the English rockers, 'Undisputed'. Musically, the album is a return to the melodic rock style as heard on the band's debut, "Speedway," which earned them fan and critical praise from the broader melodic rock community. Written during the Covid-19 pandemic, the recording of "Undisputed" took place at guitarist Lee Revills' home studio. "We didn't set out to write a certain type of record, we brought ideas to the table and they happened to be melodic. As we lived through the process and can reflect on these songs, this feels like it is shaping up to be our strongest album to date," says Revill. Adds vocalist Pete Godfrey, "'Undisputed' is the idea behind the artwork being boxing themed, but for sure it's no concept album. We loved the analogy of the music industry being a fight to get your music heard, to get it out there, and to fight back against the people who want to knock you down. We are back and we're coming for you!" Blood Red Saints were formed at the end of 2014 by singer Pete Godfrey and bassist Rob Naylor from the band Angels or Kings. They quickly got to work writing their debut album. Their search for a name ended with the chance discovery of a semi-legendary Speedway team "The Blood Red Saints", who were formed in the late 1920s in Brooklyn, New York. Their leader 'Freddie Rendetti' became synonymous with the team and was a fiery, colorful character who ultimately lived the fast life a little too fast. The band loved the name and ran with it. James Martin of VEGA came along and was instrumental in getting the band signed to Frontiers Music Srl for their debut album, "Speedway". James and his twin brother Tom also co-wrote two songs on the album and none other than Harry Hess (Harem Scarem) took care of the mastering of the album. The band's debut album was an impressive slice of classic British AOR, following in the traditions of early Dare, FM, and Newman. The band then went on to record two well-received albums, "Love Hate Conspiracies" and "Pulse", for AOR Heaven, but have now returned to Frontiers for their forthcoming fourth album, "Undisputed".
TRACKLIST
1. Blood Red Saints – This Ain't a Love Song
2. Blood Red Saints – Love Like War
3. Blood Red Saints – Heaven in the Headlights
4. Blood Red Saints – Breathe Again
5. Blood Red Saints – Caught in the Wreckage
6. Blood Red Saints – Karma
7. Blood Red Saints – Come Alive
8. Blood Red Saints – Alibi
9. Blood Red Saints – Undisputed
10. Blood Red Saints – Complete
11. Blood Red Saints – All I Wanna Do
–––––––––––-
DON'T MODIFY THIS FILE
–––––––––––-
PERFORMER: auCDtect Task Manager, ver. 1.6.0 RC1 build 1.6.0.1
Copyright © 2008-2010 y-soft. All rights reserved
http://y-soft.org
ANALYZER: auCDtect: CD records authenticity detector, version 0.8.2
Copyright © 2004 Oleg Berngardt. All rights reserved.
Copyright © 2004 Alexander Djourik. All rights reserved.
FILE: 11 – All I Wanna Do.flac
Size: 37845493 Hash: F599A469D0E3BF04D7E5FDC345F73A26 Accuracy: -m0
Conclusion: CDDA 100%
Signature: BD930499D214A5AB650147C2AE5E3B0CEA1C1763
FILE: 10 – Complete.flac
Size: 35297755 Hash: 3F6B3E8D50E1C553D1A49CAE1870E8B3 Accuracy: -m0
Conclusion: CDDA 100%
Signature: 1E9EE8BB3B05209FCCC074E44EC971914392083F
FILE: 09 – Undisputed.flac
Size: 38111941 Hash: 40D760DA27BB58F8732505DE8CED1DD8 Accuracy: -m0
Conclusion: CDDA 100%
Signature: 14AB8962D5F1AAB3F5AD8C1230AEE50CFE7F89FF
FILE: 08 – Alibi.flac
Size: 26899128 Hash: 18FE342A14C509B18F83291FCB0F6CF4 Accuracy: -m0
Conclusion: CDDA 100%
Signature: 9D65190B6477FF371B1B53020C01A4F01887D8F4
FILE: 07 – Come Alive.flac
Size: 23962249 Hash: 94C150A3B3EB0857EE3971D208D49FB5 Accuracy: -m0
Conclusion: CDDA 100%
Signature: 86BFCBD9F129CA9A5EB56CE7AEB5E33488F274B2
FILE: 06 – Karma.flac
Size: 30831524 Hash: 0F30EF3E964C41B8D691412E6DD4BF2D Accuracy: -m0
Conclusion: CDDA 100%
Signature: EEA39B03BEBC47A742A67184DD4BE113919DAEC5
FILE: 05 – Caught in the Wreckage.flac
Size: 36127812 Hash: 3782F7EFE2724C0D7D09662DA7A50DC2 Accuracy: -m0
Conclusion: CDDA 100%
Signature: ECE1A227E631AD543892F7F3EB208F16DEAC5E73
FILE: 04 – Breathe Again.flac
Size: 38183913 Hash: C57F74B332690B6B50987D9A646A01E2 Accuracy: -m0
Conclusion: CDDA 100%
Signature: BFABCF9E60B1F069CF061300B5260F548E235B0E
FILE: 03 – Heaven in the Headlights.flac
Size: 31859131 Hash: 4A9C0DC47BBCCD5564881338B4338298 Accuracy: -m0
Conclusion: CDDA 100%
Signature: 26EDFBADA31CFDE7F42A5AE9019024A2ECDFB1D0
FILE: 02 – Love Like War.flac
Size: 39983049 Hash: 4C556D42071A32FD186893FD69DE8A69 Accuracy: -m0
Conclusion: CDDA 100%
Signature: 6289960240697B75F4957E4E09DEBF3C03A4994F
FILE: 01 – This Ain't a Love Song.flac
Size: 32236047 Hash: 968F48BF9FAA3947C155D7B6443223B0 Accuracy: -m0
Conclusion: CDDA 100%
Signature: EA4094B19D529440EA45AC4A38BA50773E425AD3
DOWNLOAD LINK