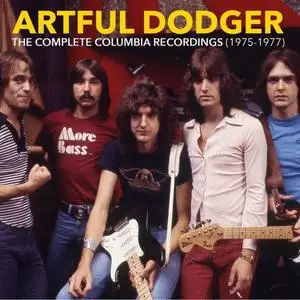 (2CD) Killer collection from "one of the great, lost, ahead-of-their-time, Amercian power-pop groups" 3 original rare albums + singles, 31-tracks. For fans of Badfinger, Raspberries, Big Star etc.
Artful Dodger may have been hurt because they fell in between the Raspberries and Cheap Trick. The band released their first album for Columbia in 1975, just as the Raspberries fell apart, and their last arrived in 1977, the same year Cheap Trick redefined power pop with their debut. So, Artful Dodger existed in the time warp of the mid-'70s, a time when album-oriented rock ruled and punk didn't enter the consciousness of the mainstream. They'd release one more album, Rave On, which appeared in 1980, just as power pop was overrun by skinny ties and nervy rhythms – the fallout of punk. Nothing like that can be heard on The Complete Columbia Recordings, Real Gone's double-disc collection of everything Artful Dodger released during the mid-'70s: their self-titled 1975 debut, 1976's Honor Among Thieves, and 1977's Babes on Broadway, plus the single version of "Can't Stop Pretending." Most of this material hasn't seen a digital release prior to this, but that didn't stop the music from earning a considerable cult following, because it's music that seems to exist out of time. Certainly, it feels like the '70s – the debut and half of Honor Among Thieves were produced by Jack Douglas, who helmed the defining Aerosmith records and Cheap Trick's debut – and Artful Dodger swing between the effervescent rush of the Raspberries and a tamed version of the Who's arena-filling roar, a sound that's anchored in a free-floating '70s aesthetic not tied to any particular year or trend. This worked against Artful Dodger at the time – they didn't have anything approaching commercial success – but as they receded into history, their three records held their period production charms while also revealing the strong songwriting craft at their core. Simply speaking, this is dynamite power pop: big, bold, and melodic, music that favors the power over the pop. Any fan of power pop who listens to "Overnight Sensation," "No Matter What," or "Couldn't I Just Tell You" and wishes all music could sound like this, will find Artful Dodger enthralling. ~ Stephen Thomas Erlewine
Tracklist
01. Wayside
02. You Know It's Alright
03. It's Over
04. Follow Me
05. Long Time Away
06. Think Think
07. Silver and Gold
08. Things I'd Like to Do Again
09. Waiting Place
10. New York City
11. Honor Among Thieves
12. Not Enough
13. Scream
14. Keep A-Knockin'
15. Keep Me Happy
16. Remember
17. Dandelion
18. Hey Boys
19. Good Fun
20. Scream (Single Version)
21. Can't Stop Pretending
22. Alright
23. Who In The World
24. Wave Bye-Bye
25. All I Need
26. Babes on Broadway
27. Mistake
28. Loretta
29. Idi Amin Stomp
30. C'mon Everybody
31. Can't Stop Pretending (Single Version)
–––––––––––-
DON'T MODIFY THIS FILE
–––––––––––-
PERFORMER: auCDtect Task Manager, ver. 1.6.0 RC1 build 1.6.0.1
Copyright © 2008-2010 y-soft. All rights reserved
http://y-soft.org
ANALYZER: auCDtect: CD records authenticity detector, version 0.8.2
Copyright © 2004 Oleg Berngardt. All rights reserved.
Copyright © 2004 Alexander Djourik. All rights reserved.
FILE: 31 – Artful Dodger – Can't Stop Pretending (Single Version).flac
Size: 17796335 Hash: 2A3077B556BEC6A0837093C1FC5C801A Accuracy: -m0
Conclusion: CDDA 99%
Signature: 037AA885349F1C5884A6C59AAC4EC1C68CFA2D3E
FILE: 30 – Artful Dodger – C'mon Everybody.flac
Size: 19412990 Hash: 78E22ADE9FB4CE5FBA36A0FD92582610 Accuracy: -m0
Conclusion: CDDA 100%
Signature: 41496FB2E9C38B5D0458C66CD1C6451663BCC3E9
FILE: 29 – Artful Dodger – Idi Amin Stomp.flac
Size: 20005999 Hash: 2C86079578046F03B8906EA2D7440578 Accuracy: -m0
Conclusion: CDDA 100%
Signature: B1D81A75A9575B3D81A5B69DEB8260AAD3DD0DCF
FILE: 28 – Artful Dodger – Loretta.flac
Size: 26628365 Hash: D3F1A53AF89BDD4E3694E5342F522E3A Accuracy: -m0
Conclusion: CDDA 99%
Signature: D7CA31AE5B056A1B34D9BCA743209D2052840D65
FILE: 27 – Artful Dodger – Mistake.flac
Size: 27533515 Hash: 4369E82DB0EF5D8888D02DC7C83EF781 Accuracy: -m0
Conclusion: CDDA 100%
Signature: 790079C9D8AE9CD71EAE2F8B7F177B3831B34E79
FILE: 26 – Artful Dodger – Babes on Broadway.flac
Size: 24317265 Hash: F4069AE63B37CD01D1856F577E4C26D7 Accuracy: -m0
Conclusion: CDDA 100%
Signature: 7E35B97E49ADC683305BC66126DCA1AB92BCC22D
FILE: 25 – Artful Dodger – All I Need.flac
Size: 22598526 Hash: 0133A5D95099D36CA2939AC881904200 Accuracy: -m0
Conclusion: CDDA 100%
Signature: BF40E1E1BD4436294C1D1E273461C67613911259
FILE: 24 – Artful Dodger – Wave Bye-Bye.flac
Size: 24272342 Hash: 13439BDA7631E74743C2D5944ECA7BC1 Accuracy: -m0
Conclusion: CDDA 100%
Signature: 8630A2B18B17C6E0D184D5CF4581D1C37B5AFE50
FILE: 23 – Artful Dodger – Who In The World.flac
Size: 33186216 Hash: 67A5188C6587E807DE12BB782504F23A Accuracy: -m0
Conclusion: CDDA 100%
Signature: E82DF7BC776B10D55F58919364B76E869B7C5055
FILE: 22 – Artful Dodger – Alright.flac
Size: 25967347 Hash: 2261DA01032ED7A8722F981DA1F14AB1 Accuracy: -m0
Conclusion: CDDA 100%
Signature: 18D932F5F5598D43B2061171EE56F53F42FA4B6A
FILE: 21 – Artful Dodger – Can't Stop Pretending.flac
Size: 27393066 Hash: 50059A7BAC52307EA3F04E63E7975BEE Accuracy: -m0
Conclusion: CDDA 100%
Signature: A68DF97AACD386B133967F4633A8C712288D75DC
FILE: 20 – Artful Dodger – Scream (Single Version).flac
Size: 21596478 Hash: 70BBC0BBCA202C0806B677F237132704 Accuracy: -m0
Conclusion: CDDA 100%
Signature: 0BD1A3CC9FC5230ECB36E2211F7B2966A52F2180
FILE: 19 – Artful Dodger – Good Fun.flac
Size: 26457958 Hash: A2E6C1350B8DE9B974CE762595A87E88 Accuracy: -m0
Conclusion: CDDA 100%
Signature: ACE82623F2FD0BE93A24FA1B3CE502EBC916BA5A
FILE: 18 – Artful Dodger – Hey Boys.flac
Size: 20418575 Hash: 890E9216A52C6BD32DD4CD8F5B68E19A Accuracy: -m0
Conclusion: CDDA 100%
Signature: F82C71359491881ABB8F603A724B929B3279A642
FILE: 17 – Artful Dodger – Dandelion.flac
Size: 24825621 Hash: CDCE530430FE300107D6E9598DB75C11 Accuracy: -m0
Conclusion: CDDA 100%
Signature: EE438264B79A6F9D9DB6D03E63E56E7A033B8B41
FILE: 16 – Artful Dodger – Remember.flac
Size: 22792574 Hash: 9D27740741383D0AC4BCC3E0F450108E Accuracy: -m0
Conclusion: CDDA 100%
Signature: 499C33EEF6584570EBB01ACD7523B9EED5ACFA91
FILE: 15 – Artful Dodger – Keep Me Happy.flac
Size: 25693716 Hash: F0D8A3A931D4C053AA10D9DB16A4A890 Accuracy: -m0
Conclusion: CDDA 100%
Signature: 64E24BDC1F733942DF770EEE5ADB19017950A42F
FILE: 14 – Artful Dodger – Keep A-Knockin'.flac
Size: 28652649 Hash: F1BFFE5F222EDFD5A5D508F7689077A5 Accuracy: -m0
Conclusion: CDDA 100%
Signature: D5EB5E3592BFBCC02C67D8892F2AE096BBF372A5
FILE: 13 – Artful Dodger – Scream.flac
Size: 34199837 Hash: 8A36942C65A80EB0CC58ED490503B457 Accuracy: -m0
Conclusion: CDDA 100%
Signature: 539B0150813E84538A94D43CCC9351CA2DA9D329
FILE: 12 – Artful Dodger – Not Enough.flac
Size: 27408433 Hash: 91DF679A57AFF8FB5B028AD634EAB583 Accuracy: -m0
Conclusion: CDDA 100%
Signature: 19F8FF0A65A775BD8D7F2D40C24C47A8CE8709BD
FILE: 11 – Artful Dodger – Honor Among Thieves.flac
Size: 28862292 Hash: CBC3BA68994DECAC64923D418EAB7F64 Accuracy: -m0
Conclusion: CDDA 100%
Signature: 14FB37104C0897A5B5F3E7841CC115C012F7BC56
FILE: 10 – Artful Dodger – New York City.flac
Size: 20941336 Hash: DA8DC9AAD6891C90310EF14E836DB84F Accuracy: -m0
Conclusion: CDDA 99%
Signature: DC34A61D8B3269F0782E4AE2E30E92E3C46BB8B5
FILE: 09 – Artful Dodger – Waiting Place.flac
Size: 28228905 Hash: D51529B60083E800C2AEEEF1E93D11D3 Accuracy: -m0
Conclusion: CDDA 100%
Signature: DFB5D06062B86EA1B71C5A4A4D497BCF9A9CC7B5
FILE: 08 – Artful Dodger – Things I'd Like to Do Again.flac
Size: 26153880 Hash: F3C979181C52E41558C443F2684F6B39 Accuracy: -m0
Conclusion: CDDA 100%
Signature: 3DAACD5C9EF9EFCEBDA57EDCE444382D1DD8DB3D
FILE: 07 – Artful Dodger – Silver and Gold.flac
Size: 21012550 Hash: 4ECD2D765449BB11B900AF7BEF559304 Accuracy: -m0
Conclusion: CDDA 100%
Signature: 191983E498BC90A066DEF9F167879D937C34C327
FILE: 06 – Artful Dodger – Think Think.flac
Size: 19628000 Hash: 5F53FFFBDD218A765D71FEFD99B5E370 Accuracy: -m0
Conclusion: CDDA 100%
Signature: 5D17274EF37115EBCF508E4618923EFC73AA8769
FILE: 05 – Artful Dodger – Long Time Away.flac
Size: 17195237 Hash: D4416CCBD7F1D2AC831647ACAB496A0C Accuracy: -m0
Conclusion: CDDA 100%
Signature: C140516CF9B3D805EFAD5722821568C35A1F19E4
FILE: 04 – Artful Dodger – Follow Me.flac
Size: 25530784 Hash: 85DE14742672BE633A9285E35114CFAA Accuracy: -m0
Conclusion: CDDA 100%
Signature: 74784FCE9CF27A67BB8D0983F119C7C206F7D2D7
FILE: 03 – Artful Dodger – It's Over.flac
Size: 26621514 Hash: 0E4320D0F262E5D699A4F4944AC45A3E Accuracy: -m0
Conclusion: CDDA 100%
Signature: 8B5B3AFB4938B007C754E87314F2D439F83082DD
FILE: 02 – Artful Dodger – You Know It's Alright.flac
Size: 24929454 Hash: 059DC808525ED5632DBC0A92C162FB8E Accuracy: -m0
Conclusion: CDDA 100%
Signature: 369444F229918CC783C3E64200355EE101FFF524
FILE: 01 – Artful Dodger – Wayside.flac
Size: 29252061 Hash: 3E3EC85FE24BC4018715C2559393B952 Accuracy: -m0
Conclusion: CDDA 100%
Signature: 93CEB658366A3F77455FA040C5328ECD42E45C1E
DOWNLOAD LINK