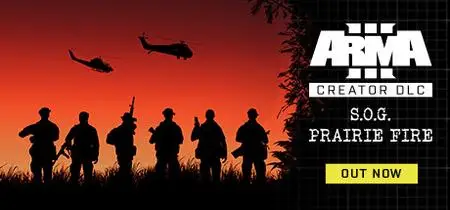 Get ready to experience the brutal intensity of the Vietnam War on a monumental scale. Developed with the help of US veterans and Vietnamese advisors, S.O.G. Prairie Fire immerses you deep within enemy territory as a member of covert special ops unit MACV-SOG and delivers an Arma 3 sandbox experience you won't forget.
Charge into battle with a wide range of historically accurate weapons and vehicles. Explore the steamy jungles and sprawling landscapes of Vietnam, Laos, and Cambodia. Run recon missions in a thrilling new co-op campaign and wage all-out war in new multiplayer and singleplayer scenarios.
KEY FEATURES
Cam Lao Nam – 300 km2 terrain
This unique new terrain enables players to design and run missions throughout all phases and locations of the war.
Dominate the region from the US Air Force base at Pleiku.
Launch missions from 6 Forward Operating Bases.
Battle through historic Hue Citadel.
Survive an uprising in the streets of Saigon.
Fight to the top of Hamburger Hill.
Run foot patrols in the Bru Montagnard jungles.
Carry out recon operations in Laos, including Mission Support Site Leghorn and the extensive hidden camps, caves, and tunnels of the Ho Chi Minh Trail.
Evade the deadly SAM batteries of "Thud Ridge", raid the notorious Son Tay Prison, discover the industrial city of Hanoi and Ha Long Navy Base.
Travel by boat through the eerie swamps of the Mekong Delta to discover the bustling ports of Da Nang, Sihanoukville and Haiphong, mysterious Paradise Island, the secret airstrip of Dharma island, and imposing Ha Long Bay.
Complete with hand-painted billboards and posters, new buildings, trees, and objects, and over a thousand terrain assets, Cam Lao Nam provides an unforgettable sandbox for all your Arma adventures.
MINIMUM:
OS:Windows 7 SP1 (64bit)
Processor:Intel Dual-Core 2.4 GHz or AMD Dual-Core Athlon 2.5 GHz
Memory:8 GB RAM
Graphics:NVIDIA GeForce 9800GT / AMD Radeon HD 5670 / Intel HD Graphics 4000 with 512 MB VRAM
DirectX®:10
Hard Drive:75 GB free space
Audio:DirectX®-compatible on-board
RECOMMENDED:
OS:Windows 7 / 8 / 10 (64bit)
Processor:Intel Core i5-4460 or AMD FX 4300 or better
Memory:16 GB RAM
Graphics:NVIDIA GeForce GTX 660 / AMD Radeon HD 7800 Series with 2 GB VRAM
DirectX®:11
Hard Drive:100 GB free space, SSD / Hybrid HDD / SSHD storage
Sound:DirectX®-compatible soundcard
DOWNLOAD LINK