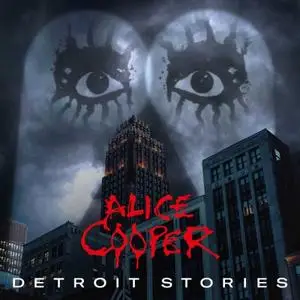 Tracklist:
01. Intro
02. Brutal Planet
03. No More Mr. Nice Guy
04. Under My Wheels
05. Department Of Youth
06. Pain
07. Billion Dollar Babies
08. The World Needs Guts
09. Woman Of Mass Distraction
10. Poison
11. Halo Of Flies
12. Feed My Frankenstein
13. Cold Ethyl
14. Only Women Bleed
15. Paranoiac Personality
16. Ballad Of Dwight Fry
17. Killer / I Love The Dead Themes
18. I'm Eighteen
19. School's Out
20. Outro
Disc Title: ALICE COOPER
Disc Label: Alice Cooper – Detroit stories 2021 1080i Blu-ray AVC DTS HD-MA 5.1
Disc Size: 22,349,216,099 bytes
Protection: AACS
Extras: BD-Java
BDInfo: 0.7.5.5
Notes:
BDINFO HOME:
Cinema Squid (old)
http://www.cinemasquid.com/blu-ray/tools/bdinfo
UniqProject GitHub (new)
https://github.com/UniqProject/BDInfo
INCLUDES FORUMS REPORT FOR:
AVS Forum Blu-ray Audio and Video Specifications Thread
http://www.avsforum.com/avs-vb/showthread.php?t=1155731
WARNING: Report is incomplete because: Scan has not been run.
********************
PLAYLIST: 01101.MPLS
********************
<–- BEGIN FORUMS PASTE –->
                                                                                                                Total   Video                                             
Title                                                           Codec   Length  Movie Size      Disc Size       Bitrate Bitrate Main Audio Track                          Secondary Audio Track
-----                                                           ------  ------- --------------  --------------  ------- ------- ------------------                        ---------------------
01101.MPLS                                                      AVC     1:28:14 0               22,349,216,099  0.00    0.00    LPCM 2.0 2304Kbps (48kHz/24-bit)          DTS-HD Master 5.1 (48kHz/24-bit)


DISC INFO:

Disc Title:     ALICE COOPER
Disc Label:     Alice Cooper - Detroit stories 2021 1080i Blu-ray AVC DTS HD-MA 5.1
Disc Size:      22,349,216,099 bytes
Protection:     AACS
Extras:         BD-Java
BDInfo:         0.7.5.5

PLAYLIST REPORT:

Name:                   01101.MPLS
Length:                 1:28:14.055 (h:m:s.ms)
Size:                   0 bytes
Total Bitrate:          0.00 Mbps

VIDEO:

Codec                   Bitrate             Description     
-----                   -------             -----------     
MPEG-4 AVC Video        0 kbps              1080i / 29.970 fps / 16:9 / High Profile 4.1

AUDIO:

Codec                           Language        Bitrate         Description     
-----                           --------        -------         -----------     
LPCM Audio                      English         2304 kbps       2.0 / 48 kHz /  2304 kbps / 24-bit
DTS-HD Master Audio             English         0 kbps          5.1 / 48 kHz / 24-bit (DTS Core: 5.1 / 48 kHz /  1509 kbps / 24-bit)

FILES:

Name            Time In         Length          Size            Total Bitrate   
----            -------         ------          ----            -------------   
00002.M2TS      0:00:00.000     1:28:13.554     0               0               
00003.M2TS      1:28:13.554     0:00:00.500     0               0               

CHAPTERS:

Number          Time In         Length          Avg Video Rate  Max 1-Sec Rate  Max 1-Sec Time  Max 5-Sec Rate  Max 5-Sec Time  Max 10Sec Rate  Max 10Sec Time  Avg Frame Size  Max Frame Size  Max Frame Time  
------          -------         ------          --------------  --------------  --------------  --------------  --------------  --------------  --------------  --------------  --------------  --------------  
1               0:00:00.000     0:00:42.675     0 kbps          0 kbps          00:00:00.000    0 kbps          00:00:00.000    0 kbps          00:00:00.000    0 bytes         0 bytes         00:00:00.000    
2               0:00:42.675     0:04:52.525     0 kbps          0 kbps          00:00:00.000    0 kbps          00:00:00.000    0 kbps          00:00:00.000    0 bytes         0 bytes         00:00:00.000    
3               0:05:35.201     0:03:09.756     0 kbps          0 kbps          00:00:00.000    0 kbps          00:00:00.000    0 kbps          00:00:00.000    0 bytes         0 bytes         00:00:00.000    
4               0:08:44.957     0:03:00.213     0 kbps          0 kbps          00:00:00.000    0 kbps          00:00:00.000    0 kbps          00:00:00.000    0 bytes         0 bytes         00:00:00.000    
5               0:11:45.171     0:02:52.772     0 kbps          0 kbps          00:00:00.000    0 kbps          00:00:00.000    0 kbps          00:00:00.000    0 bytes         0 bytes         00:00:00.000    
6               0:14:37.943     0:03:54.701     0 kbps          0 kbps          00:00:00.000    0 kbps          00:00:00.000    0 kbps          00:00:00.000    0 bytes         0 bytes         00:00:00.000    
7               0:18:32.644     0:03:38.318     0 kbps          0 kbps          00:00:00.000    0 kbps          00:00:00.000    0 kbps          00:00:00.000    0 bytes         0 bytes         00:00:00.000    
8               0:22:10.962     0:03:48.394     0 kbps          0 kbps          00:00:00.000    0 kbps          00:00:00.000    0 kbps          00:00:00.000    0 bytes         0 bytes         00:00:00.000    
9               0:25:59.357     0:06:22.148     0 kbps          0 kbps          00:00:00.000    0 kbps          00:00:00.000    0 kbps          00:00:00.000    0 bytes         0 bytes         00:00:00.000    
10              0:32:21.506     0:04:51.290     0 kbps          0 kbps          00:00:00.000    0 kbps          00:00:00.000    0 kbps          00:00:00.000    0 bytes         0 bytes         00:00:00.000    
11              0:37:12.797     0:10:52.318     0 kbps          0 kbps          00:00:00.000    0 kbps          00:00:00.000    0 kbps          00:00:00.000    0 bytes         0 bytes         00:00:00.000    
12              0:48:05.115     0:05:02.869     0 kbps          0 kbps          00:00:00.000    0 kbps          00:00:00.000    0 kbps          00:00:00.000    0 bytes         0 bytes         00:00:00.000    
13              0:53:07.984     0:03:58.638     0 kbps          0 kbps          00:00:00.000    0 kbps          00:00:00.000    0 kbps          00:00:00.000    0 bytes         0 bytes         00:00:00.000    
14              0:57:06.623     0:05:10.043     0 kbps          0 kbps          00:00:00.000    0 kbps          00:00:00.000    0 kbps          00:00:00.000    0 bytes         0 bytes         00:00:00.000    
15              1:02:16.666     0:03:38.351     0 kbps          0 kbps          00:00:00.000    0 kbps          00:00:00.000    0 kbps          00:00:00.000    0 bytes         0 bytes         00:00:00.000    
16              1:05:55.017     0:04:53.026     0 kbps          0 kbps          00:00:00.000    0 kbps          00:00:00.000    0 kbps          00:00:00.000    0 bytes         0 bytes         00:00:00.000    
17              1:10:48.043     0:03:40.954     0 kbps          0 kbps          00:00:00.000    0 kbps          00:00:00.000    0 kbps          00:00:00.000    0 bytes         0 bytes         00:00:00.000    
18              1:14:28.997     0:05:05.638     0 kbps          0 kbps          00:00:00.000    0 kbps          00:00:00.000    0 kbps          00:00:00.000    0 bytes         0 bytes         00:00:00.000    
19              1:19:34.636     0:06:58.851     0 kbps          0 kbps          00:00:00.000    0 kbps          00:00:00.000    0 kbps          00:00:00.000    0 bytes         0 bytes         00:00:00.000    
20              1:26:33.488     0:01:40.567     0 kbps          0 kbps          00:00:00.000    0 kbps          00:00:00.000    0 kbps          00:00:00.000    0 bytes         0 bytes         00:00:00.000    

STREAM DIAGNOSTICS:

File            PID             Type            Codec           Language                Seconds                 Bitrate                 Bytes           Packets         
----            ---             ----            -----           --------                --------------          --------------          -------------   -----           
00002.M2TS      4113 (0x1011)   0x1B            AVC                                     0.701                   0                       0               0               
00002.M2TS      4352 (0x1100)   0x80            LPCM            eng (English)           0.701                   0                       0               0               
00002.M2TS      4353 (0x1101)   0x86            DTS-HD MA       eng (English)           0.701                   0                       0               0               
00003.M2TS      4113 (0x1011)   0x1B            AVC                                     0                       0                       0               0               


<–– END FORUMS PASTE ––>
QUICK SUMMARY:
Disc Title: ALICE COOPER
Disc Label: Alice Cooper – Detroit stories 2021 1080i Blu-ray AVC DTS HD-MA 5.1
Disc Size: 22,349,216,099 bytes
Protection: AACS
Playlist: 01101.MPLS
Size: 0 bytes
Length: 1:28:14.055
Total Bitrate: 0.00 Mbps
Video: MPEG-4 AVC Video / 0 kbps / 1080i / 29.970 fps / 16:9 / High Profile 4.1
Audio: English / LPCM Audio / 2.0 / 48 kHz / 2304 kbps / 24-bit
Audio: English / DTS-HD Master Audio / 5.1 / 48 kHz / 24-bit (DTS Core: 5.1 / 48 kHz / 1509 kbps / 24-bit)
********************
PLAYLIST: 00002.MPLS
********************
<–- BEGIN FORUMS PASTE –->
                                                                                                                Total   Video                                             
Title                                                           Codec   Length  Movie Size      Disc Size       Bitrate Bitrate Main Audio Track                          Secondary Audio Track
-----                                                           ------  ------- --------------  --------------  ------- ------- ------------------                        ---------------------
00002.MPLS                                                      AVC     1:28:13 0               22,349,216,099  0.00    0.00    LPCM 2.0 2304Kbps (48kHz/24-bit)          DTS-HD Master 5.1 (48kHz/24-bit)


DISC INFO:

Disc Title:     ALICE COOPER
Disc Label:     Alice Cooper - Detroit stories 2021 1080i Blu-ray AVC DTS HD-MA 5.1
Disc Size:      22,349,216,099 bytes
Protection:     AACS
Extras:         BD-Java
BDInfo:         0.7.5.5

PLAYLIST REPORT:

Name:                   00002.MPLS
Length:                 1:28:13.554 (h:m:s.ms)
Size:                   0 bytes
Total Bitrate:          0.00 Mbps

VIDEO:

Codec                   Bitrate             Description     
-----                   -------             -----------     
MPEG-4 AVC Video        0 kbps              1080i / 29.970 fps / 16:9 / High Profile 4.1

AUDIO:

Codec                           Language        Bitrate         Description     
-----                           --------        -------         -----------     
LPCM Audio                      English         2304 kbps       2.0 / 48 kHz /  2304 kbps / 24-bit
DTS-HD Master Audio             English         0 kbps          5.1 / 48 kHz / 24-bit (DTS Core: 5.1 / 48 kHz /  1509 kbps / 24-bit)

FILES:

Name            Time In         Length          Size            Total Bitrate   
----            -------         ------          ----            -------------   
00002.M2TS      0:00:00.000     1:28:13.554     0               0               

CHAPTERS:

Number          Time In         Length          Avg Video Rate  Max 1-Sec Rate  Max 1-Sec Time  Max 5-Sec Rate  Max 5-Sec Time  Max 10Sec Rate  Max 10Sec Time  Avg Frame Size  Max Frame Size  Max Frame Time  
------          -------         ------          --------------  --------------  --------------  --------------  --------------  --------------  --------------  --------------  --------------  --------------  
1               0:00:00.000     1:28:13.554     0 kbps          0 kbps          00:00:00.000    0 kbps          00:00:00.000    0 kbps          00:00:00.000    0 bytes         0 bytes         00:00:00.000    

STREAM DIAGNOSTICS:

File            PID             Type            Codec           Language                Seconds                 Bitrate                 Bytes           Packets         
----            ---             ----            -----           --------                --------------          --------------          -------------   -----           
00002.M2TS      4113 (0x1011)   0x1B            AVC                                     0.701                   0                       0               0               
00002.M2TS      4352 (0x1100)   0x80            LPCM            eng (English)           0.701                   0                       0               0               
00002.M2TS      4353 (0x1101)   0x86            DTS-HD MA       eng (English)           0.701                   0                       0               0               


<–– END FORUMS PASTE ––>
QUICK SUMMARY:
Disc Title: ALICE COOPER
Disc Label: Alice Cooper – Detroit stories 2021 1080i Blu-ray AVC DTS HD-MA 5.1
Disc Size: 22,349,216,099 bytes
Protection: AACS
Playlist: 00002.MPLS
Size: 0 bytes
Length: 1:28:13.554
Total Bitrate: 0.00 Mbps
Video: MPEG-4 AVC Video / 0 kbps / 1080i / 29.970 fps / 16:9 / High Profile 4.1
Audio: English / LPCM Audio / 2.0 / 48 kHz / 2304 kbps / 24-bit
Audio: English / DTS-HD Master Audio / 5.1 / 48 kHz / 24-bit (DTS Core: 5.1 / 48 kHz / 1509 kbps / 24-bit)
********************
PLAYLIST: 00001.MPLS
********************
<–- BEGIN FORUMS PASTE –->
                                                                                                                Total   Video                                             
Title                                                           Codec   Length  Movie Size      Disc Size       Bitrate Bitrate Main Audio Track                          Secondary 			  		   	  		  		  		 		   	 			   		  	   		 	    		 	    	 			   		   	  		   	  		  	   	 			   		   	  		  	 			 Audio Track
-----                                                           ------  ------- --------------  --------------  ------- ------- ------------------                        ---------------------
00001.MPLS                                                      AVC     0:00:45 0               22,349,216,099  0.00    0.00    LPCM 2.0 2304Kbps (48kHz/24-bit)          


DISC INFO:

Disc Title:     ALICE COOPER
Disc Label:     Alice Cooper - Detroit stories 2021 1080i Blu-ray AVC DTS HD-MA 5.1
Disc Size:      22,349,216,099 bytes
Protection:     AACS
Extras:         BD-Java
BDInfo:         0.7.5.5

PLAYLIST REPORT:

Name:                   00001.MPLS
Length:                 0:00:45.779 (h:m:s.ms)
Size:                   0 bytes
Total Bitrate:          0.00 Mbps

VIDEO:

Codec                   Bitrate             Description     
-----                   -------             -----------     
MPEG-4 AVC Video        0 kbps              1080i / 29.970 fps / 16:9 / High Profile 4.1

AUDIO:

Codec                           Language        Bitrate         Description     
-----                           --------        -------         -----------     
LPCM Audio                      Undetermined    2304 kbps       2.0 / 48 kHz /  2304 kbps / 24-bit

FILES:

Name            Time In         Length          Size            Total Bitrate   
----            -------         ------          ----            -------------   
00001.M2TS      0:00:00.000     0:00:45.779     0               0               

CHAPTERS:

Number          Time In         Length          Avg Video Rate  Max 1-Sec Rate  Max 1-Sec Time  Max 5-Sec Rate  Max 5-Sec Time  Max 10Sec Rate  Max 10Sec Time  Avg Frame Size  Max Frame Size  Max Frame Time  
------          -------         ------          --------------  --------------  --------------  --------------  --------------  --------------  --------------  --------------  --------------  --------------  
1               0:00:00.000     0:00:45.779     0 kbps          0 kbps          00:00:00.000    0 kbps          00:00:00.000    0 kbps          00:00:00.000    0 bytes         0 bytes         00:00:00.000    

STREAM DIAGNOSTICS:

File            PID             Type            Codec           Language                Seconds                 Bitrate                 Bytes           Packets         
----            ---             ----            -----           --------                --------------          --------------          -------------   -----           
00001.M2TS      4113 (0x1011)   0x1B            AVC                                     0.634                   0                       0               0               
00001.M2TS      4352 (0x1100)   0x80            LPCM            und (Undetermined)      0.634                   0                       0               0               


<–– END FORUMS PASTE ––>
QUICK SUMMARY:
Disc Title: ALICE COOPER
Disc Label: Alice Cooper – Detroit stories 2021 1080i Blu-ray AVC DTS HD-MA 5.1
Disc Size: 22,349,216,099 bytes
Protection: AACS
Playlist: 00001.MPLS
Size: 0 bytes
Length: 0:00:45.779
Total Bitrate: 0.00 Mbps
Video: MPEG-4 AVC Video / 0 kbps / 1080i / 29.970 fps / 16:9 / High Profile 4.1
Audio: Undetermined / LPCM Audio / 2.0 / 48 kHz / 2304 kbps / 24-bit
All thanks go to the original releaser
DOWNLOAD LINK