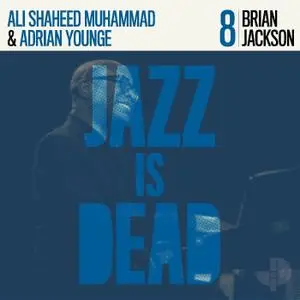 Brian Jackson JID008 is the first full album released by the great man in 20 years and it's a testament to his multifaceted talents that while there are moments throughout that hint at his game-changing history and track record, for the most part it reveals a musician whose considerable lessons learned from the past only serve to keep his eyes firmly fixed on the future. It's a masterclass in unbridled and open-minded creativity, no different from what Brian did half a century ago. The ease and comfort with which his ideas integrate with those of musicians a generation younger than him bears this out. To listen to this album is to hear a hot up-and-coming musician who also happens to be a major jazz-funk legend.
Tracklist:
1. Under The Bridge (04:04)
2. Mars Walk (04:04)
3. Young Muhammad (03:54)
4. Nancy Wilson (02:41)
5. Baba Ibeji (04:15)
6. Duality (04:19)
7. Bain de Minuit (05:47)
8. Ethiopian Sunshower (03:08)
–––––––––––-
DON'T MODIFY THIS FILE
–––––––––––-
PERFORMER: auCDtect Task Manager, ver. 1.6.0 RC1 build 1.6.0.1
Copyright © 2008-2010 y-soft. All rights reserved
ANALYZER: auCDtect: CD records authenticity detector, version 0.8.2
Copyright © 2004 Oleg Berngardt. All rights reserved.
Copyright © 2004 Alexander Djourik. All rights reserved.
FILE: 08 – Ethiopian Sunshower.flac
Size: 20824006 Hash: 8CAB3AC409128520772E4BB90175697B Accuracy: -m8
Conclusion: CDDA 100%
Signature: C81C325CB0E5F55F0F78EBBD8DA762E830370DF5
FILE: 07 – Bain de Minuit.flac
Size: 34162522 Hash: DC45F628DB07090DD8F51C456BA0C706 Accuracy: -m8
Conclusion: CDDA 100%
Signature: BFFB1CBE579B77B91CBA4C48DB8A325A277CC924
FILE: 06 – Duality.flac
Size: 28553861 Hash: 7A686ED9FD943953146AFE0A93C5DB8C Accuracy: -m8
Conclusion: CDDA 100%
Signature: 5870FC7F45EAAADB360A7F492EAA809BD951BA8A
FILE: 05 – Baba Ibeji.flac
Size: 26232682 Hash: EC7B05C143587A778E0ECBF80BF972F2 Accuracy: -m8
Conclusion: CDDA 99%
Signature: 2F41DDCB1D24B71FFF3F60512B84F90551CD324D
FILE: 04 – Nancy Wilson.flac
Size: 16539571 Hash: 3B46FF0E68EF37FB6CFFF4247E3E4FA7 Accuracy: -m8
Conclusion: CDDA 100%
Signature: 779EE82F0911AA521F1D26EF076C4BF381F71091
FILE: 03 – Young Muhammad.flac
Size: 26431639 Hash: A69CA19B2BA5841250C30515FA56B55B Accuracy: -m8
Conclusion: CDDA 100%
Signature: 02729B16F82719AB3AAA9EDA96D5B89CB765C9DF
FILE: 02 – Mars Walk.flac
Size: 27055741 Hash: DD59BE1F93227A310FFA83B8BD3AF3B0 Accuracy: -m8
Conclusion: CDDA 100%
Signature: A44F3DAF64CD46CCA5666107862FC848F6FA93E1
FILE: 01 – Under the Bridge.flac
Size: 26923203 Hash: B31CAABC74ADD2FFD10E60637404B606 Accuracy: -m8
Conclusion: CDDA 100%
Signature: 2551A294AE6C9B4AB7502DD671ABA06B46C66332
DOWNLOAD LINK